Fast teeth straightening with clear aligners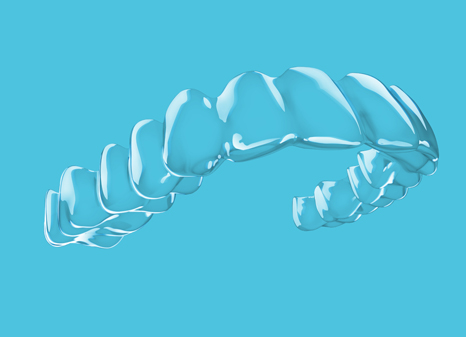 Are you troubled by misaligned, crowded or crooked teeth but concerned about the impact of braces on your appearance?
At one time, getting straighter teeth meant metal braces but, thanks to advances in dental care, many cases can now be treated with removable discrete orthodontic appliances that are particularly suited to adult cases.
At AllClear, we are able to treat many cases of misaligned front teeth (i.e. incisors, canines and first premolars) using a series of removable near-invisible aligners which has the advantages of speed of treatment (treatments typically take just 8 months to complete) and cost effectiveness.
Clear aligners can treat a range of moderate adult orthodontic conditions and including crowding, crossbite and over- & underbite - call us or complete the form in the resources bar to request a free consulation and we'll be happy to advise you on whether this type of treatment can help you.
Teeth straightening by general dentists
Teeth straightening has been traditionally undertaken by specialist orthodontists who have received extensive postgraduate training in the straightening of teeth. In recent years, a number of orthodontic treatments have been developed for use by general dentists (such as AllClear's dentists) with brand names such as Invisalign™, Spark™, Smilelign™ and many others. For suitable cases, these products can give excellent and fast results but they do have limitations and for serious or complex cases of misalignment, a specialist orthodontist should still be consulted. We will be happy to recommend a local orthodontist to you if we feel that your condition is outside the scope of what we, as general dentists, are able to treat at AllClear.
What our patients have said
The following testimonials have been given to us by patients at the end of their treatment with us (please note that these patients received Invisalign treatment from Dr Shiralee Patel. Our practice dentists now offer other more cost-effective systems providing similar results):
My treatment went ever so smoothly. My teeth are looking amazing & I couldn't be happier. The staff have been nothing short of incredible. I would highly recommend anyone to use them. - Anonymous patient
I am thrilled with my results and have so much more confidence in smiling. Shiralee has been so amazing and I couldn't recommend having the Invisalign treatment here enough. - Anonymous patient
Very happy with the end result and would advise those who want to have it done should not wait for long. Thank you very much - Consuela P
I am really happy with how my teeth look and the whole process was easy, comfortable and has left me with the result I have! Shiralee and her team have been extremely informative and helpful the whole way - Katie B
I am very pleased with the treatment received. From initial consultation to the final phase of treatment, Dr Patel has kept me informed of the process, listened to my concerns and modified my plan to give me the smile I asked for. Most importantly, I'm very happy with the end result and can't stop smiling. - Anita N